ANDY WOLF X MOTEL A MIIO
ANDY WOLF X MOTEL A MIIO
ANDY WOLF X MOTEL A MIIO
ANDY WOLF X MOTEL A MIIO
ANDY WOLF X MOTEL A MIIO
PARAISO captures the light of dawn, the play of rock colors, the smell of fine sand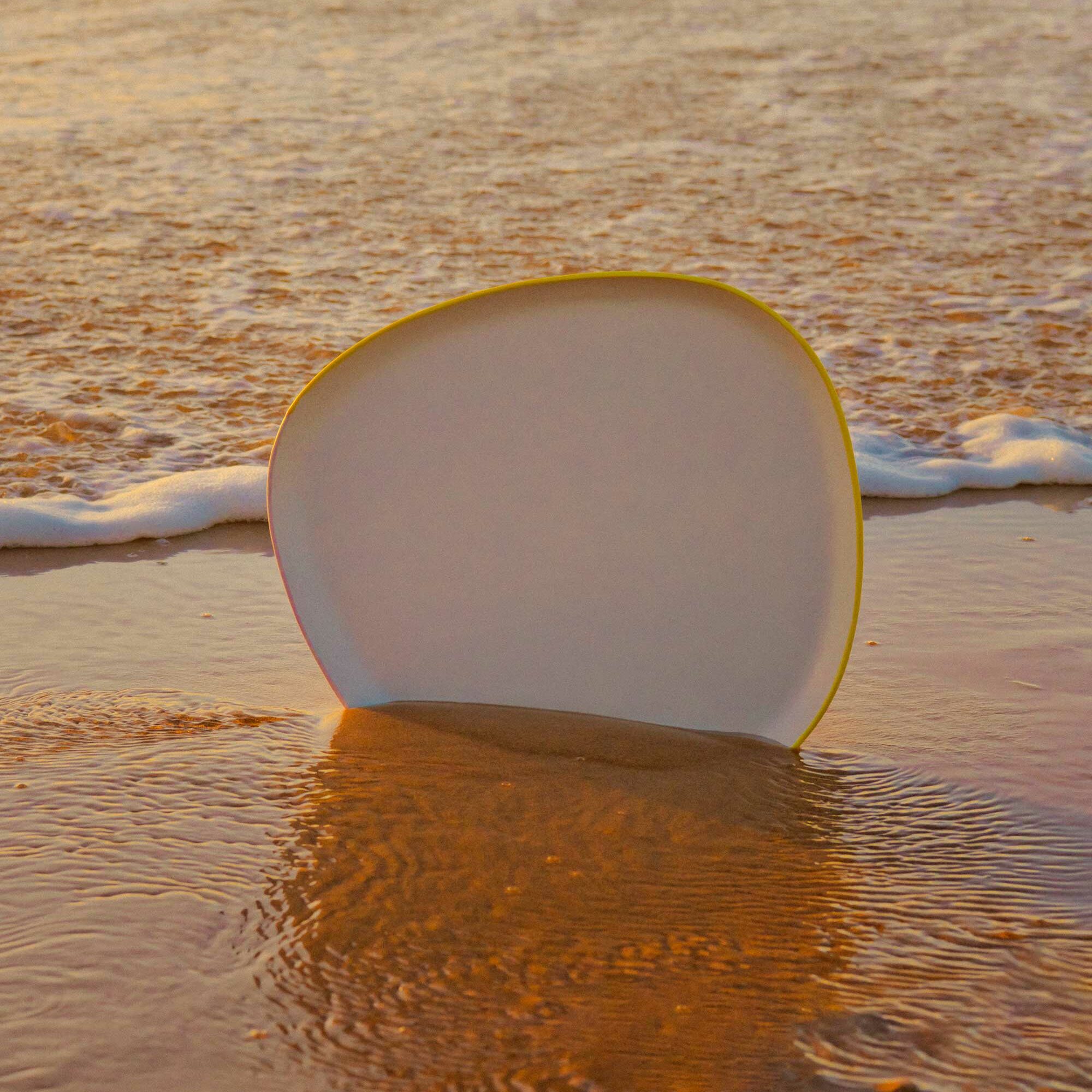 A paradisiacal couple
ADAM is a classic unisex panto frame, ALBA is feminine, organically shaped and oversized. Deliberately placed facets add depth and three-dimensionality to the frames, both of them glow in summery colors.
Looking at the organic shape of the vase AURORA from above, it gives the perfect lens shape of ALBA.
For the tray ADAÕ the lens of the unisex frame ADAM was adopted, which gives the bowl its shape.
CONCEPT
ABOUT MOTEL A MIIO
Scroll and discover
INTERRELATED AND IN HARMONY
The glasses are limited to 500 pieces per color and style worldwide. Both companies stand for sustainability and local production, so it was particularly important for the cooperation that both glasses and ceramics are made 100% locally and by hand in Austria and Portugal respectively.
As in nature, the one conditions the other and the boundaries between glasses and interior blur. The result is two special ceramic pieces: the key piece is the vase AURORA, in which the lens shape of ALBA was adopted for the shapely outer contour. Looking at the organic shape of the vase from above, it gives the perfect lens shape of the sunglasses glass. For the ADAÕ tray, the lens of the ADAM unisex frame was adopted, giving the bowl its shape. The AURORA vase has fresh, overlapping color accents, while the ADAÕ tray plays with color highlights on the edge of the tray. Both pieces were handmade and painted in Portugal, each product is unique.
CERAMICS WITH VACATION FEELING
The success story of Motel a Miio began in 2016, when the founders Anna von Hellberg and Laura Castien fell in love with the handmade pottery while on vacation together in Portugal. Out of enthusiasm and a gut feeling, the two unceremoniously packed a small load of the unique stoneware to bring the vacation feeling home to friends and acquaintances.
Only five years later, Motel a Miio is one of the most successful and well-known brands for ceramics in Europe. Meanwhile, Anna and Laura have opened 22 stores (are certainly more by then) in Europe in addition to their online store, and many more countries are planned. The collections are produced fairly and environmentally friendly in Portugal and the designs are handpicked and painted. This creates very special one-of-a-kind pieces. But also in terms of people management, sustainable and responsible actions play a big role for Anna and Laura. Their defined values should run through the entire supply chain and the focus should be on people.
The ceramics of the Paraiso collection will be available for purchase in selected stores and in the Onlineshop von Motel A Miio, as well as at selected partners from 01 June 2022.