ANDY WOLF HAS BEEN SOMETHING SPECIAL SINCE DAY ONE
Exactly the character of the people behind it. It takes dreamers like Andy and Wolfgang, who have carried the idea of AWearness inside them for a long time. It takes burning hearts that have given shape to this vision. It takes skilled hands to make the collection, to check it, to pack it, to ship it. It takes all these special people to create AWearness. We are grateful and proud to know that these people are behind ANDY WOLF every day.
Go to the collection
Past & Future
Inspiration
The Name
Local Production
Scroll and discover
For ANDY WOLF's 15th anniversary, we fulfilled our heart's desire – to create a collection that unites the past and the future.
Design, heart & soul and craftsmanship are in every ANDY WOLF frame. For AWearness we have also carefully examined the sustainability of every detail. The name AWearness carries the initials from ANDY WOLF and stands for "to wear" and "awareness" – the conscious interaction with people and nature.
ANDY WOLF Eyewear started small in 2006, but with a big vision – to combine local, traditional eyewear craftsmanship with contemporary, innovative design. AWearness takes us back to the beginning, to our roots. Each frame shows that we're proud of what we've created. Each of the six distinctive frames finds their own godfather in the very first ANDY WOLF collection. Inspired by their shape and color, we designed six perfect all-time classics. The result is design objects that are one thing above all: durable.
We have always shown responsibility: with our local production, our bee colonies, our ANDY WOLF family. AWearness shows responsibility as well and takes one step further. There are a lot of sustainable details to discover on each and every frame. The glasses are made from high-quality bioacetate, which we let age naturally for many weeks before processing. We have deliberately avoided permanent connections in order to be able to replace each part individually and disassemble the glasses into single-variety materials. Every AWearness model is three-dimensional and ergonomic through their facets. Each component is well thought out and of timeless quality. The newly developed temple inlay with our unique embossed pattern gives the frame a surtain geometric personality, which is highlighted by a perfectly fitted clip-on. In AWearness, we have combined everything we expect from a sustainable collection – nothing more and nothing less.
Each one of the six distinctive AWearness frames is based on a frame from the very first collection.
Inspired by their shape and color, timeless and stylish eyewear has been created. Together they depict a design unit, yet each on its own has the right to make a statement. Each lens shape is distinct and a classic in its own – there is a round, a square and a trapezoid shape, as well as a panto lens, a crown panto and a memorable XL frame. Millings at the end of the temple make them extra ergonomic, hugging the head and ear perfectly. Facets on the front & temples, and the play with thick and thin acetate, make each of the models an extravagant, three-dimensional companion.
Each frame is carefully handcrafted in our manufactory in Austria.
We exclusivly use sustainable bioacetate in 8 mm thickness. The material is stored naturally for at least twelve weeks before we produce the glasses. This is how we ensure that the frames are particularly dimensionally stable and durable. There are twelve selected colors per frame. The colors vary for every taste from pure black to classic Havana tones, from cool transparent shades to desaturated yet powerful colors. Each of the six models is available in every color variation, meaning shape and color can be combined for every taste.
SUSTAINABLE PRODUCT, SUSTAINABLE PACKAGING
Each AWearness frame is packaged in a stylish cardboard box out of a sustainable forested material. It holds not only the glasses, but also the case made of recycled leather, the microfiber cleaning cloth finished with gold printing, and the clip-on including clip-on case. The box is decidedly not a disposable product – remove the inlay and it transforms into a practical storage box for four pairs of glasses.
AWEARNESS PERSONAL­­IZATION
Each AWearness frame can be personalized. With hotstamping in gold or silver, matching the temple inlay and hinge of the selected variant, the name or initials are stamped into the left temple end. Of course, AWearness frames can also be ordered in a matte finish or equipped with bridge supports or extra-long temples.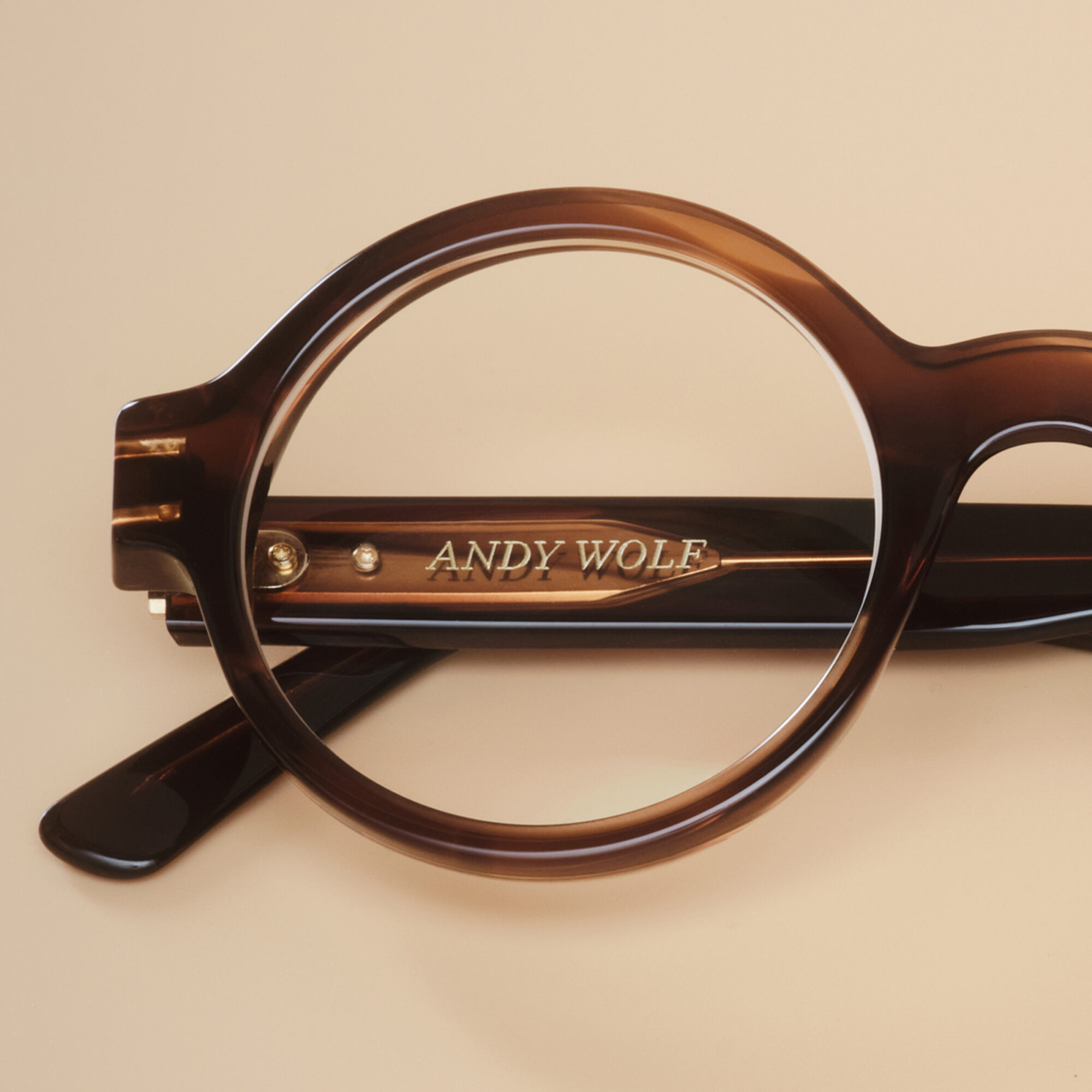 AWearness frames are alltime classics
Each of the AWearness models is available in 12 different colors. From classic black to milky, subdued blue-green to black laminated red havana – everyone is guaranteed to find something suitable.
Go to the collection