12/10/2021 — Collaborations
Andy Wolf x Darren
Together with the music duo Darren, we have developed the sunglasses Coarse and Fine. The two designs are a tribute to the year 1981 which, according to an article in the Guardian, is considered the year of the synth revolution in pop music. Andy Wolf Eyewear meets Musicduo Darren • Collaboration • Sunglasses Coarse and Fine • Homage to the year of the synth revolution
Andy Wolf x Darren Collaboration
When Chris Rehberger (creative director, founder of Berlin-based creative agency Double Standards and part of music duo Darren) read the article "Forget 1966, because 1981 was pop's year of revolution" by Bob Stanley in THE GUARDIAN Dec. 17, 2015, he knew this year deserved a special release. In the article, 1981 is described as the year of pop culture's synthesizer revolution. For the first time, synthesizers were the main instrument of songs and did not serve only as accompaniment. In 1981 numerous records were released by Kraftwerk, Depeche Mode, Eurythmics & New Order among others. All of these records have left a lasting mark on pop music to this day.
Today, exactly 40 years later, Chris Rehberger together with his longtime friend and music partner Markus Nikolai, would like to revive this important year. They are strongly influenced from that time and have been producing and releasing music together for over 30 years. Markus Nikolai is also the owner of the optician of the same name in Frankfurt: Markus Nikolai Optic. True to the motto "We maximized the maximalism", both have designed the two statement sunglasses Coarse and Fine in collaboration with ANDY WOLF.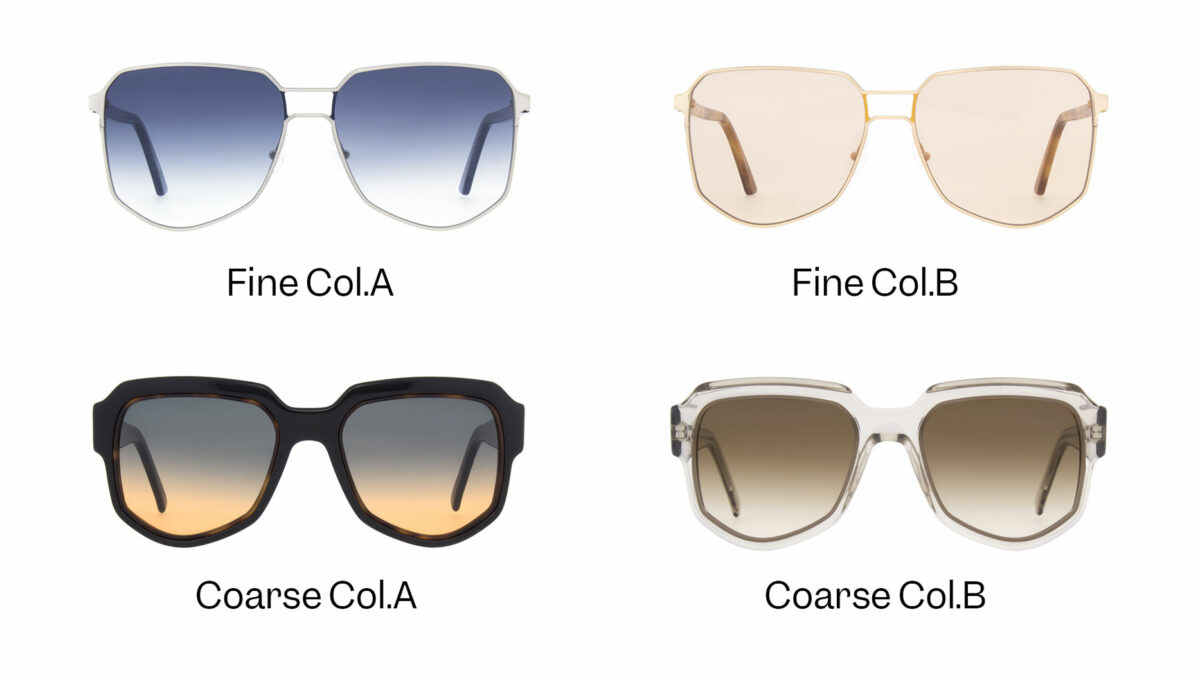 Iconic eyewear designs of this decade served as the basis.
Chris Rehberger morphed all the collected shapes into a primal form. The result is an independent, expressive and also idiosyncratic eyewear shape. The design team of ANDY WOLF has further developed the idea and created a wearable and contemporary shape. As the names suggest, Coarse is a striking acetate frame with a color-contrasting inner ring made of the same material. The inner ring is not bonded and can be removed or replaced. Fine, on the other hand, is a thin metal frame with temples made of acetate. What unites the two is the shape, as the outer contour of Coarse, is the base for Fine. Both names come from the control panel of the synthesizer – a setting with which the sound can be adjusted.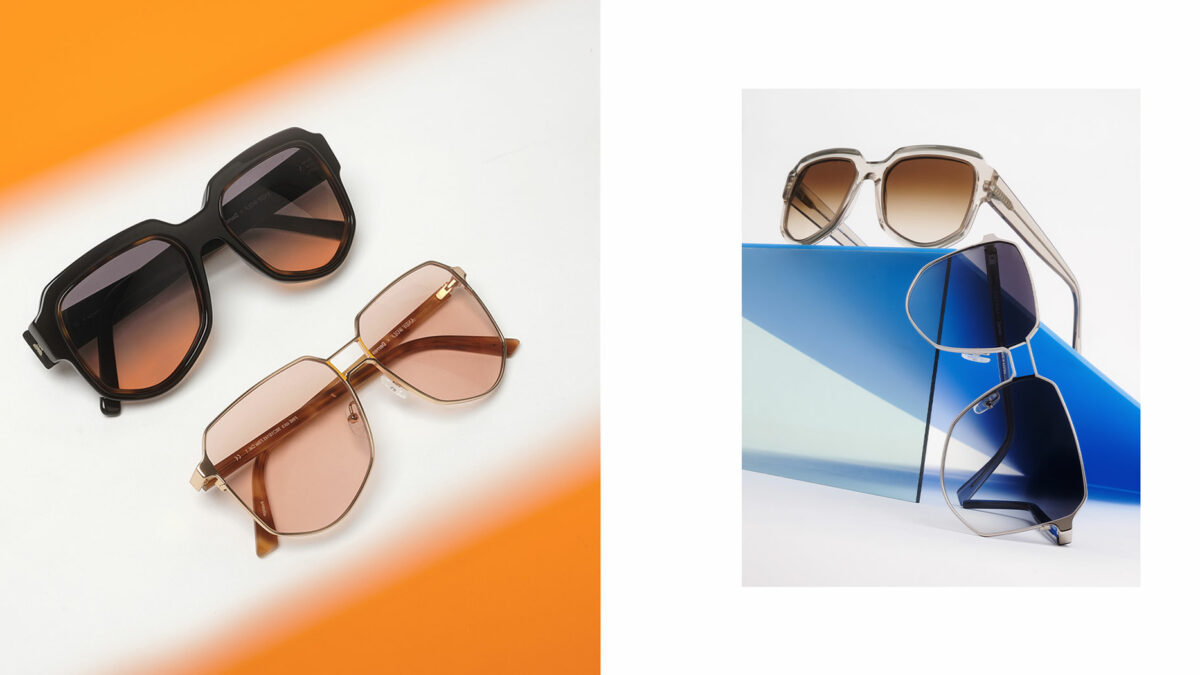 Die Farben des Sonnebrillenduos sind eine Referenz an die bekanntesten Synthesizer dieses Jahrzehnts.
Coarse comes in a first variant in black with an inner ring of Havana and a triple lens in gray, orange, blue from ZEISS. The second variant is a tone-on-tone combination of Crystal taupe with an inner ring of Milky taupe and a brown gradient lens, also from ZEISS. Fine plays with contrasts of gold with beige accents and silver with blue. Both accents are precisely applied by hand. The lenses of both variants are a tint of beige and dark blue gradient. Both frames are elaborately and lovingly handmade in the ANDY WOLF manufactory in Hartberg. The frames are created in over 90 steps.