Considerable experience & dedication
All of the ANDY WOLF glasses, whether sunglasses or optical frames, are handmade with considerable experience and dedication. Our acetate frames come from Hartberg in Austria, while the factory for our metal frames is situated in the Jura region of France. Let us assure you: the people behind ANDY WOLF (and that means everyone!) are completely dedicated to our brand. This is evident in every piece of eyewear and in everything we do, every day. In this way, everyone who wears ANDY WOLF eyewear becomes part of the ANDY WOLF family. Welcome!
Scroll and discover
Hartberg – where the magic happens
When was the last time you created something with your hands? At ANDY WOLF, this is something we do each and every day. All of our acetate frames are elaborately and lovingly created by hand in our factory in Hartberg, Austria. This manufacturing process has been at the heart of ANDY WOLF since our founding. We've put our trust into regional production and have set great value upon local manufacturing. Our pride in our craftsmanship and our love for glasses is evident. Throughout our processes, we are able to rely on our staff 's decades-long experience in the eyewear industry. With their knowhow, we can turn our visions into a reality. Our staff is irreplaceable. The precision and knowledge they utilize in handcrafting our frames cannot be replicated by any machine.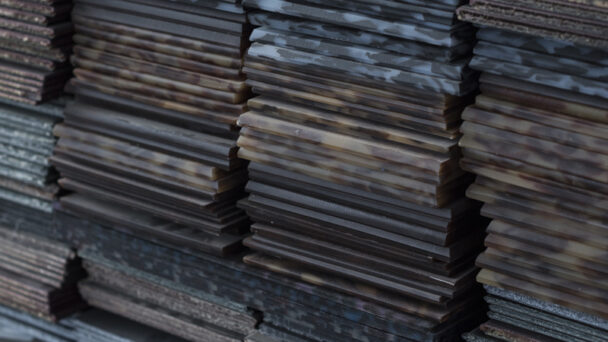 Young love is like cotton candy

ACETATE
Cotton is the base material of our acetate frames. The cotton fibers are pressed into blocks through heat and pressure. Afterwards the acetate blocks are cut into sheets. For multicolored acetate, we cut the individual colors into strips and arrange them into the desired pattern. This allows us to give them their unique look through extrusion.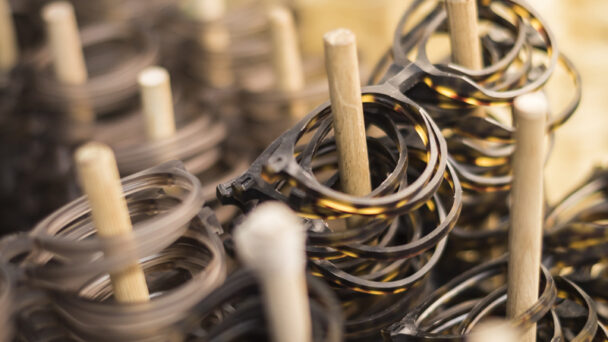 2 mm make all the difference

A MATTER OF SIZE
Genuine ANDY WOLF front parts are made of 8mm acetate sheets. This size helps us to avoid unnecessary gluing spots and gives us the freedom to experiment with different depths. There are currently 14 milling machines, each with different tasks. Once, the front has been milled, the frame really begins to take shape.
Our hearts are beating like a laundry drum
POLISH EFFICIENCY
Through a multistage process, we deburr the temples and front piece from any residue left from the milling process. We then grind and polish our frames; first, in tumblers, resembling washing machines. Next, the polishing process is continued, using a paste created with acetate grit. Each frame is put through a week long procedure of treatments, ranging from rough grinding to fine polishing. This guarantees true wearing comfort and resilience. Per aspera ad astra: through hard ships to the stars.
A permanent connection & 
getting our showpieces into shape
HEAT WAVE
It ́s getting hot in here! Through induction, each hinge is heated to about 150-250° C and pressed into the ace-tate, creating an eternal, indissoluble bond.
Getting our showpieces into shape
THE PERFECT FIT
In order to guarantee the ideal fit, the front is carefully shaped. The acetate is heated to 65°C, pressed into shape, and cooled in order to preserve the perfect fit.
Our sidepiece: A shooting star
FIXING THE VOLATILE
We are fans of equality: We give our temples the same amount of attention as we give to our front pieces. In order to keep the temples in shape during our final adjustments a metal insert is implanted. This process requires all of our experience and precision, as we only heat the acetate in places where the insert will be placed. In order to create the perfect fit, we bend the end of each temple after cooling down, but before it goes back into the polishing process.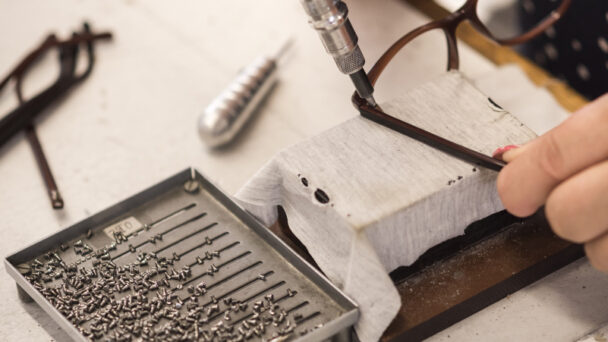 Getting it together
HEADMASTER'S ASSEMBLY
At the next step, a steady hand is required. After the front and the temples have been subjected to a strict quality check, the final assembly is able to take place. Similar to the process of a carpenter creating a mitre joint, the temple and the front part are cut and then assembled.
Honed by a master craftsman our showpieces
FINISHING TOUCH
Our staff carefully checks for even the smallest of irregularities and hand polishes our frames to a high gloss. This intensive process requires diligence and expertise. After another quality check, we cut our demo lenses or our sunlenses and then mount them into frames.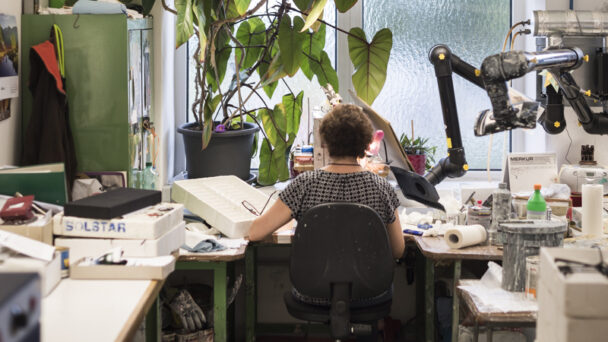 Subtlety is the key
HALLMARK
Since our beginning, we have deliberately refrained from using a visible logo. In order to make our glasses recognizable as an authentic ANDY WOLF frame, we print our logo and other pertinent information on the inside of the temples.
FAREWELL, BEAUTY
it's hard to say goodbye
With velvet gloves, we check each of our frames very carefully, and if necessary, provide even more care and attention. It is often hard to say goodbye to our frames, but the certainty of bringing happiness to 69 countries the world over decreases our sorrow a little bit.
JURA – a french love affair
Do you believe in love at first sight? At ANDY WOLF we firmly believe in it. When we first set foot in our metal frame factory in St. Pierre, we immedia-tely fell head over heels in love! The region around the Haute-Jura National Park is considered the cradle of metal frame production and is highly regarded for this all over the world. Their longlasting tradition of craftsmanship dates back to the 16th century and has been passed down from one generation to the next. In 2016, we adopted a fully staffed French factory into the ANDY WOLF family. Since then, we have been able to rely on their many years of expertise, as well as their love of craftsmanship. With this factory in our family, we are able to take complete and personal responsibility for the production of our metal frames. This ownership gives us flexibility and ensures our high expectations are met. Because of our confidence in local production, and in the Jura region as a whole, ANDY WOLF has been awarded the "French Origin Guarantee Certificate." This guarantees that our metal frames are fully produced in France.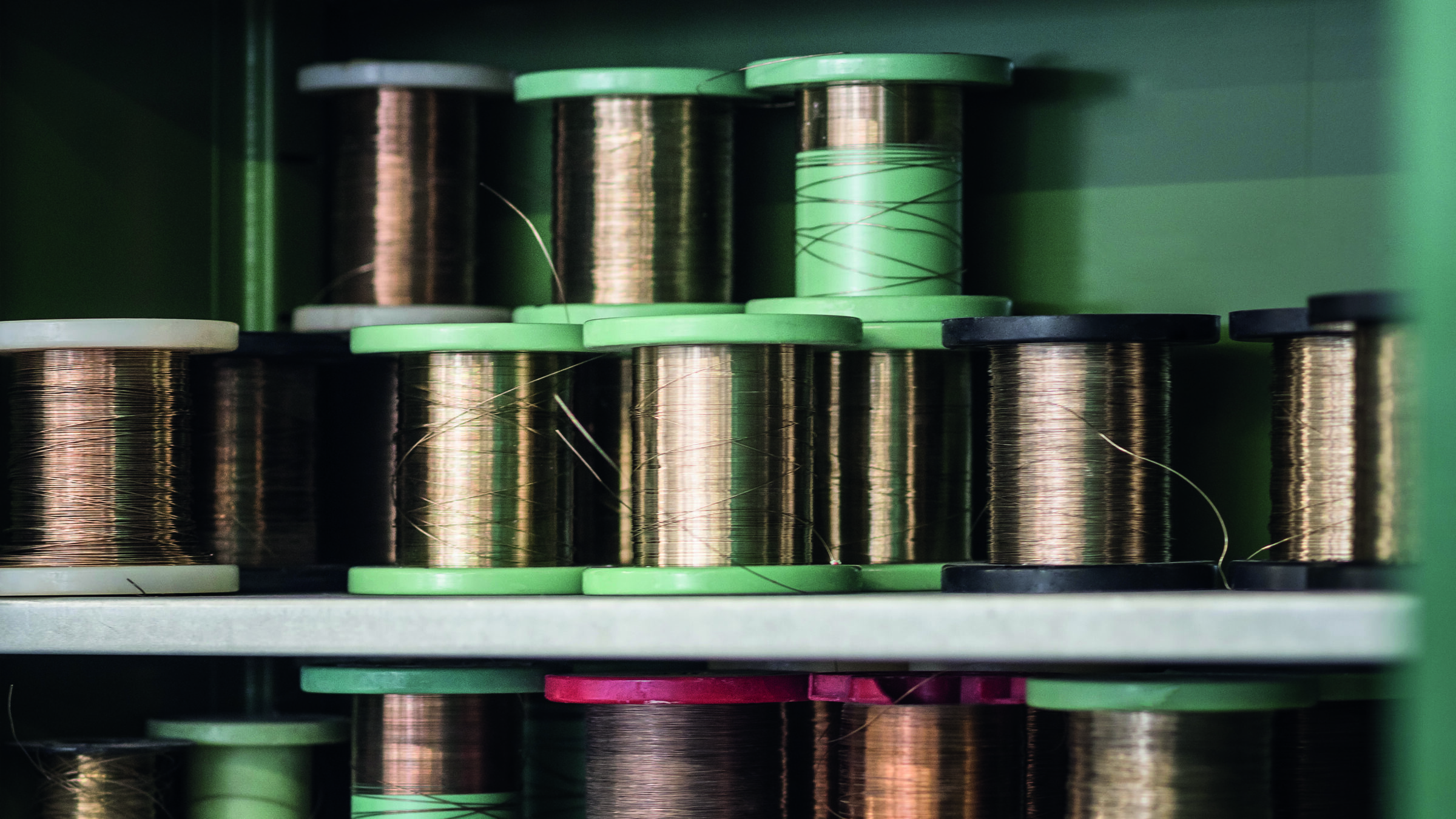 Love in the times of manual production
WIRE
Each pair of our glasses is produced individually. This process requires additional time, which we are more than happy to spend, because it ensures that our high quality standards are met. Each metal frame is produced from a metal wire roll weighing around 20 kg. The wire that is extracted is now malleable and easily manipulated.
A matter of millimeters
THE PROTOTYPE

Our in-house craftsmen are able to produce a wide variety of prototypes. Once these are created, we are able to decide which prototype will become a real ANDY WOLF frame. Often, it is only a matter of a few millimeters that will decide the success of our glasses before they are sent out into the world.
Growing together
KNOW HOW
We greatly benefit from having employees working on the production of our ANDY WOLF frames with 30 years of metals experience. Their knowledge is extensive, and the frames we are able to produce are great illustrations of this knowledge and experience. This is a component of our ANDY WOLF production that can't be replaced by a machine. This "personal touch" is to our advantage because each frame model is fitted with its own set of production tools, which is created through their knowledge.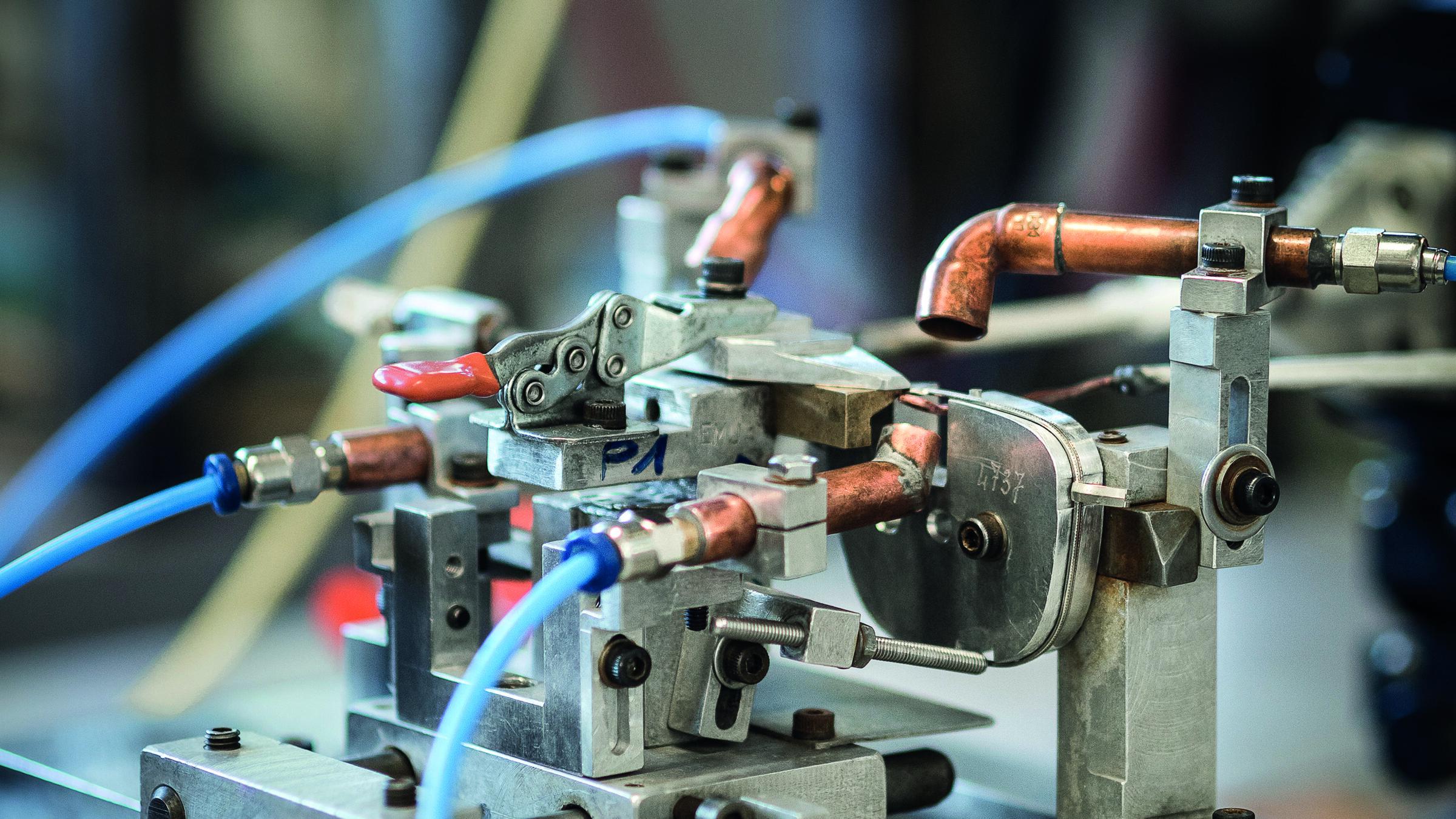 A personalized approach
BONDING
For our acetate frames, the front and temples are milled from one piece before being assembled into its final sheet of acetate form. This is not possible with our metal frames: Each part has to be bent separately and then soldered together with soldering tools specially created for this purpose. Once mounted onto the template, the rims are soldered onto the bridge.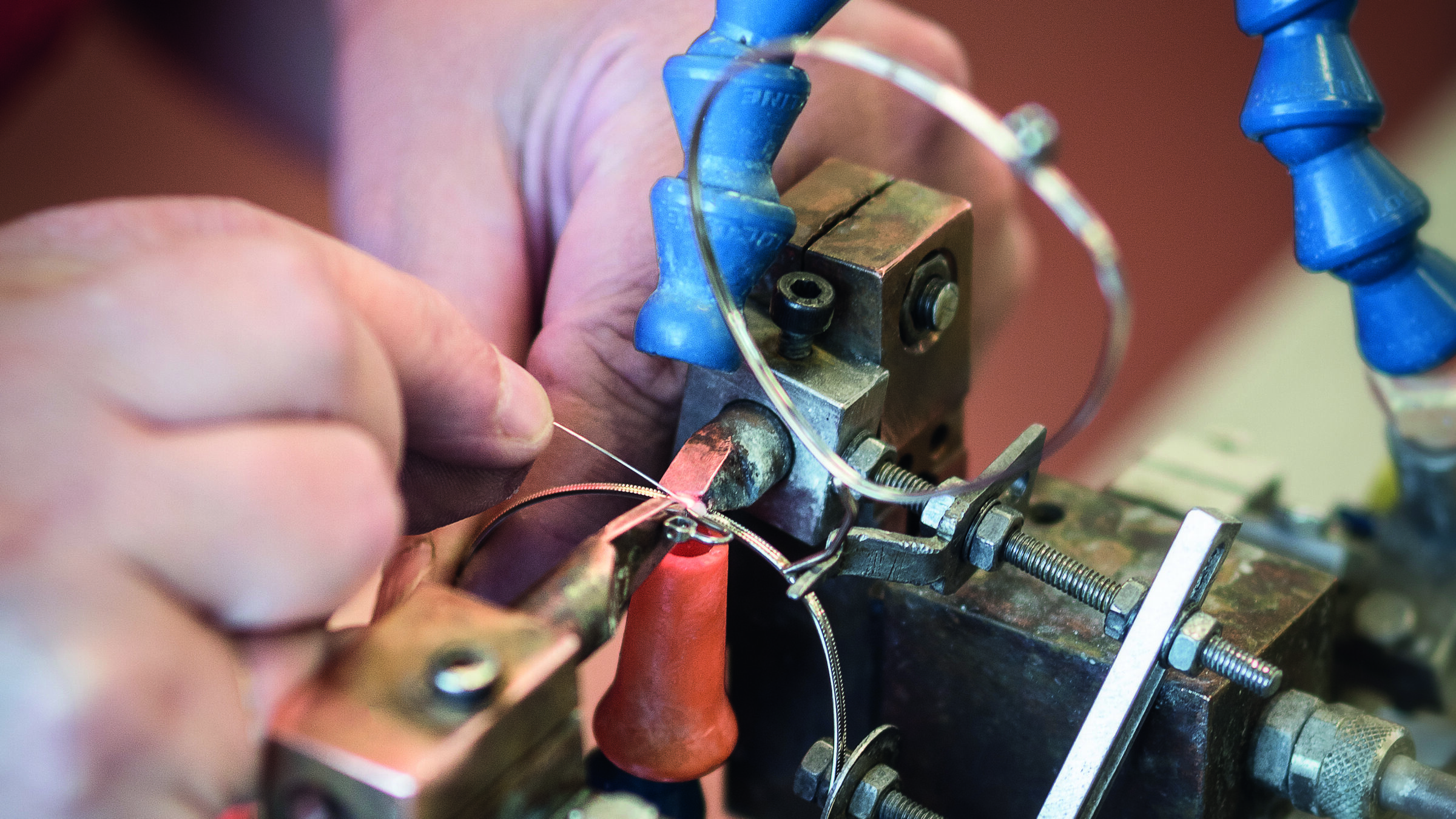 An open-heart surgery
SOLDER
Here, a steady hand is required. With the help of a spot welder, the miniboxes are soldered onto the pad arms. In the final steps of our assembly, this is where the nose pads will be attached.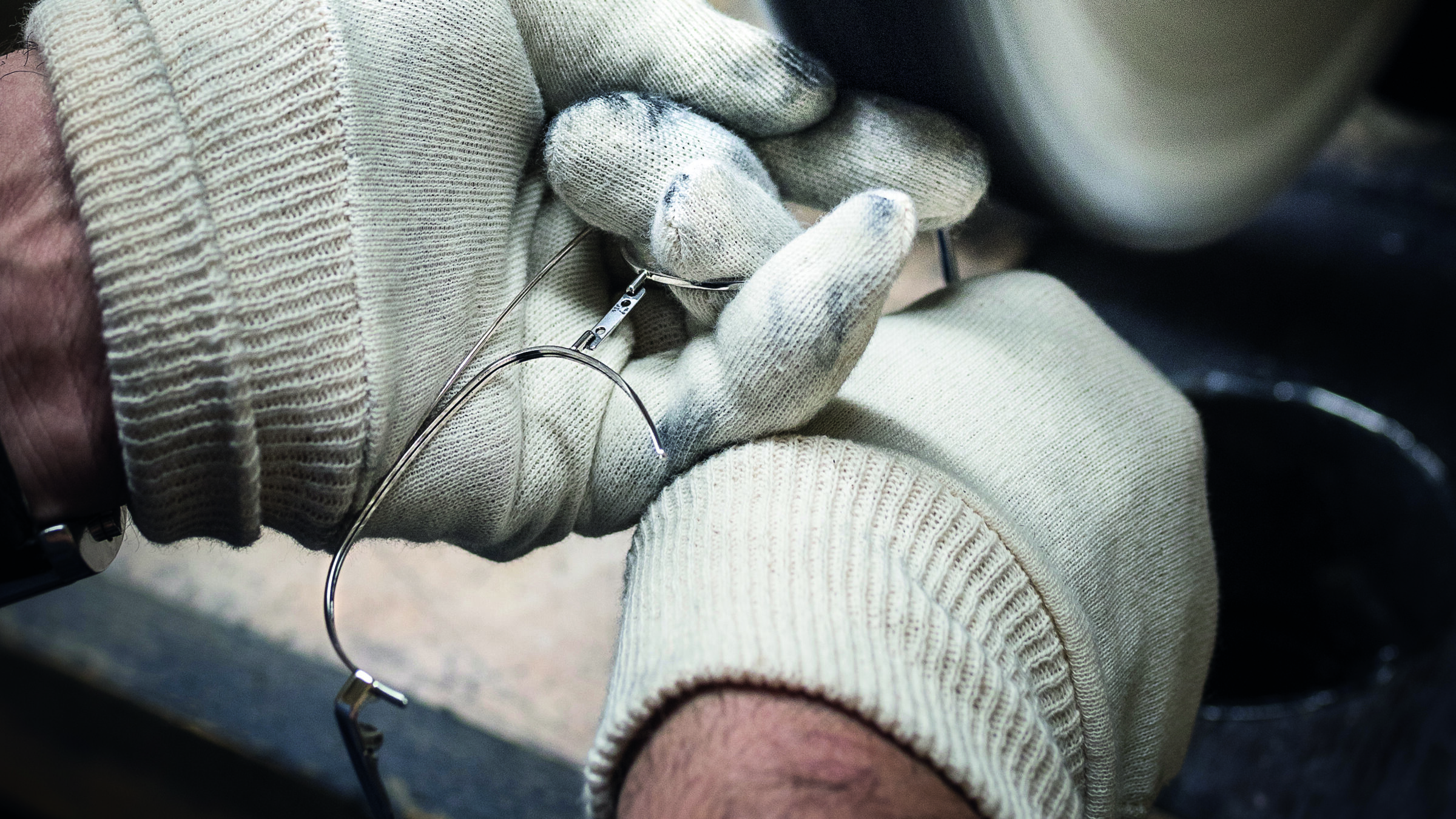 A glimpse of eternity
SHINE

As a finishing touch, the glasses undergo a multilevel polishing process which helps them to achieve that unparalleled ANDY WOLF glow. The entire polishing process and finishing touches are perfor-med by a master's hand.
It's time for gold
GALVANIZE

All of our frames are refined by the classic galvanic method: While the glasses bracket is negatively charged, the galvanic bath hauls the positively charged ions so that tiny particles sediment onto the metal surface and form a beautifully even and extremely durable bond with the frame. Here, complying with the international standards of production is very important to us. This process is repeated several times until we reach the desired coloring. This also works with silver and rose gold. Then we seal the surface with a protective varnish.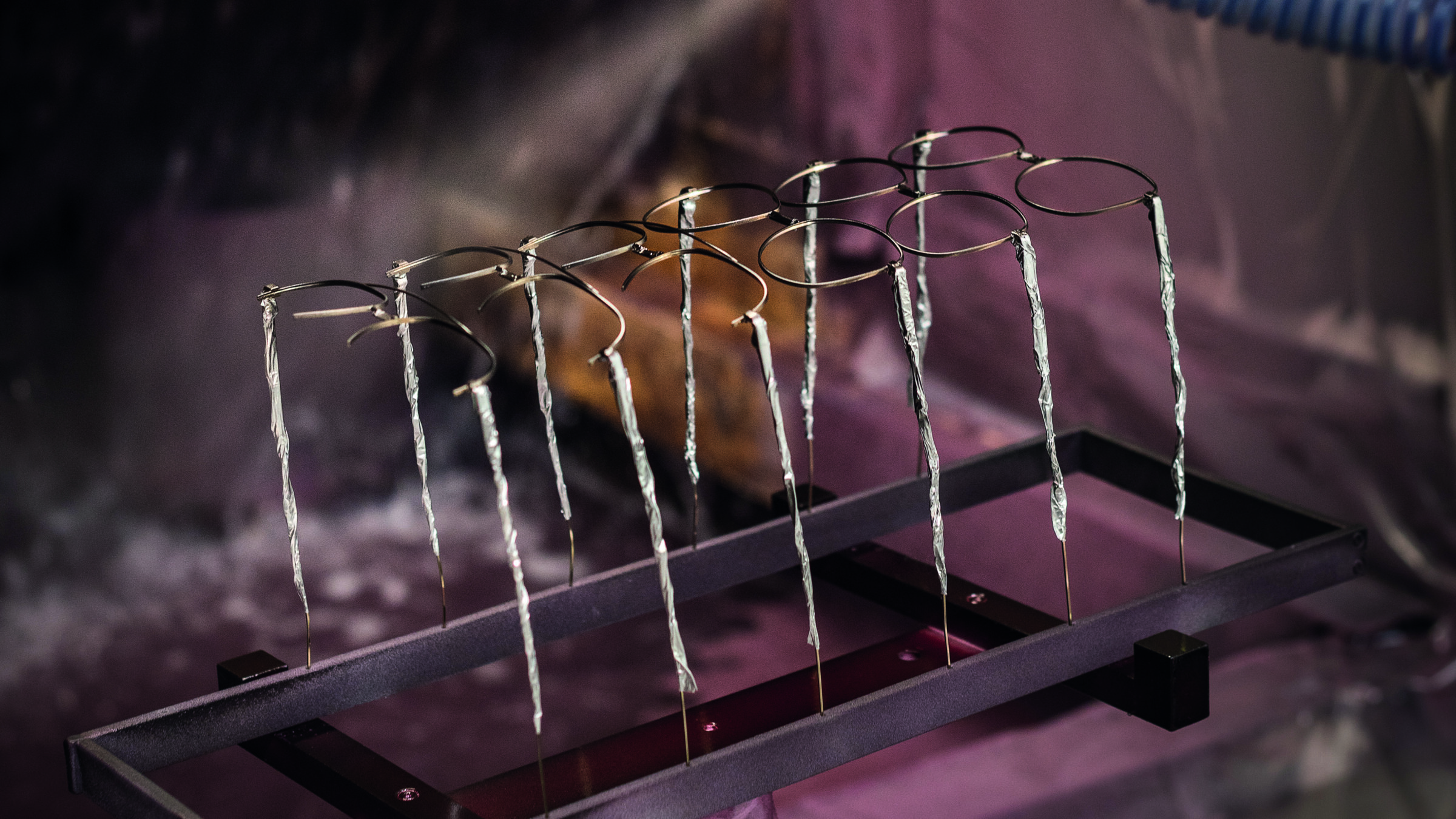 A protecting hand over our showpieces
COATING

For our two color models, we manually cover certain areas after the galvanization process, and then hand lacquer them to the desired color. The result is then coated with the protective varnish to ensure the longevity of those beautiful colors. We ́re got your back, baby!
Not for the faint-hearted
APPLYING COLORS

Not for the faint-hearted: For our models with rings of contrasting colors, we apply each color, individually, by hand. The color must be applied evenly, and in one go to reach the desired result.
You deserve perfection
LOVE ME TENDER

Before our glasses are allowed out into the world, they must pass a strict quality control. For an ideal fit, we bend the temples ergonomically. They are put through a multistep detailed examination before being sent to our customers in 69 different countries.
DESIGN MADE WITH LOVE IN EUROPE
Some things never change – the cornerstone for our brand has always been our local production. Sounds like an outlandish idea? Not for us. The world would be more beautiful if everyone were dedicated to sustainability. We, at least, do our part. Our raw material, acetate, is based on certified natural materials, while our metal is always partly recycled. We make many of the components which are used in our eyewear, however small these may be, or we otherwise buy them exclusively in Europe. With our nearby production facilities, we avoid long transport distances and are able to guarantee flawless quality. This is evident in all of our excellent products!
Mehr über Uns
Umweltfreundliches Material
In Europa hergestellt
Individuell Anpassbar
Perfect Fit
Umweltfreundliches Material
In Europa hergestellt
Individuell Anpassbar
Perfect Fit